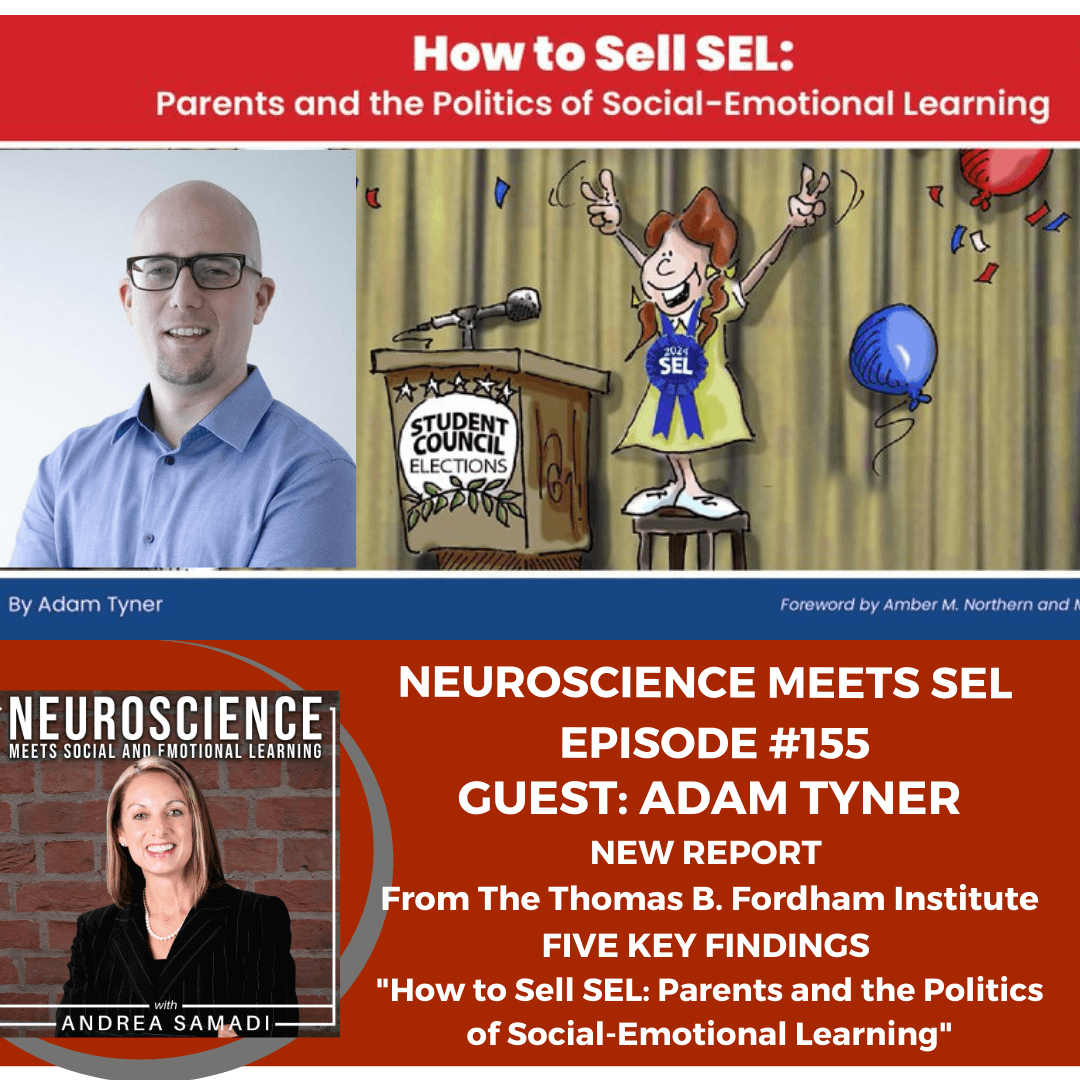 Welcome back to the Neuroscience Meets Social and Emotional Learning Podcast for episode #155 with Adam Tyner from the Thomas Fordham Institute[i] (an organization that promotes educational excellence for every child in America via quality research, analysis, and commentary) on his newly released report How to Sell SEL: Parents and the Politics of Social and Emotional Learning.
Watch this interview on YouTube here https://youtu.be/BWe04ByXOpk
Access the Online Report here https://sel.fordhaminstitute.org/
Access past episodes here https://www.achieveit360.com/episodes/ 
On this episode, you will learn:
The TOP 5 Findings from Adam Tyner's NEW REPORT "Parents and the Politics of Social-Emotional Learning"
I'm Andrea Samadi, author, and educator from Toronto, Canada, now in Arizona, and like many of our listeners, have been fascinated with learning and understanding the science behind high performance strategies in our schools, sports, and workplace environments with ideas that we can all use, understand and implement immediately.
We do this by covering the science-based evidence behind social and emotional learning (for schools) and emotional intelligence training (in the workplace). Our podcast provides tools, resources and ideas for parents, teachers, and employees to improve well-being, achievement and productivity using simple neuroscience as it relates to our cognitive (the skills our brain uses to think, read, remember, pay attention), social and interpersonal relationships (with ourselves and others) and emotional learning (where we recognize and manage our emotions, demonstrate empathy and cope with frustration and stress).
This past week, as I was researching and learning new ideas for upcoming episodes, I saw a notification come through my phone from Twitter that caught my attention. It was from Victoria McDougald, from the Fordham Institute in Washington DC and she let me know that they were about to release a new report that explores how parents view SEL and how they want it taught in schools. We have all seen how the mental-health challenges imposed by the Covid-19 pandemic have made it more urgent to better support students' social and emotional learning needs while also advancing their academic learning, so I put down what I was doing and wrote her back immediately. This topic is urgent, timely and important. Every day I see emails about trainings in our schools to support our students SEL needs and the challenges we have all faced are not going away, they are changing and persisting in a way I don't think any of us imagined. The challenge that I have seen from the very beginning of watching SEL being implemented in schools across the US (starting in 2014 with just 8 States to our present day where all 50 States have some sort of SEL implementation plan) is that educators saw the importance of SEL, but didn't know where to begin, they weren't sure which program to use, how to integrate the SEL competencies into the curriculum. Following many of the early SEL webinars, I noticed this was a common theme. This is why we launched The Neuroscience Meets Social and Emotional Learning Podcast in June 2019 to gather ideas, strategies and best practices for those interested in learning more about this topic, with easy-to-understand implementation strategies and ideas for our schools and workplaces. The topics we cover on this podcast were going to be an Introduction to SEL Course with a well-known educational publisher, but when this direction changed, I decided to put this content out into the world, for free, to help support educators and those in the workplace.
I had no idea that this podcast would gain a global following, going into 153 countries and approaching 100,000 downloads (over 8K downloads/month) as we noticed that educators and those in the workplace were looking for new ways to sharpen their saw—with these skills that are not new, but are newly important. If this is how educators were feeling as these skills were being implemented into our schools, or employees in their workplaces, I wondered what parents would be thinking and feeling? Does the everyday modern parent know what social and emotional skills are? Since launching the podcast, I have had constant feedback from people around the world how these topics are helping people, whether it's from Superintendents in our schools running their District, Principals running their school sites, teachers running their classrooms, or parents looking to find new ideas to inspire themselves at work, or with their own children.
As you can see from the topics we cover, these skills (that we have tied the most current brain research) are not just about teaching our next generation to be responsible citizens, or to be respectful. There are 6 competencies that we focus on, based on the research from Casel.org[ii] and implementing these competencies is an important task not only for our students, but also for our teachers. I saw this emerge as a clear hot topic with my interview with Chey and Pav on their Staffroom Podcast[iii] (they are 2 phenomenal educators from Toronto who cover educational topics to improve our next generation of teachers/students) and it became clear that teachers can see the importance of modeling these skills in our classrooms of the future, integrating them into core subject areas, but what do parents think?
That's what we will explore on today's episode.
I looked closer at Victoria's message to me on Twitter, and she reminded me that "as we enter another pandemic year, the results of this first-of-its kind survey will help educators, policymakers and philanthropists gain stronger parental support and better help students navigate this exceptionally challenging time" and my response to her was "how soon can we speak?"
The report, written Adam Tyner, and the Foreword and Executive Summary by Amber Northern and Michael J. Petrill shows 5 key findings that we will dive deep into with our questions starting with the premise that "America's hard nosed focus on academic achievement in recent decades has not improved schools nearly enough" (page 1 How to Sell SEL" and that the Common Core wars taught us that "mishandling communication about education reforms can derail good intentions." (page 1 How to Sell SEL) so the Fordham Institute partnered with YouGov, a global public-opinion firm to develop a nationally representative survey of 2,000 parents "to gain greater clarity on what parents of K-12 students think about SEL, how they understand it, whether they see it as more help or hindrance, and whether they have concerns about its implementation." (page 1, How to Sell SEL)
**** Since there is a political angle to the report, I wanted to mention that I am a new US Citizen (September 2018) and have only voted once (born in Great Britain, grew up in Toronto, Canada, and moved to  AZ, USA a few months before 9/11/01—with a vision to make an impact with education after the Columbine Tragedy—with SEL skills as my motivator).
I'm really interested to dive deep with the report author, data analyst and project manager, Adam Tyner, on the results and findings, to see if we can bring more clarity for educators and parents on the future of SEL in our schools, and demystify these "social and emotional skills" that I have dedicated my life's work towards, with the hopes that some change occurs in our schools, and communities of the future.
Welcome Adam Tyner, thank you for meeting with me so quickly after the release of this report. I'm sure you can see that I recognize how timely and important this topic is.
Before we get to the questions, and the top findings of your report, I have to ask you "How was your honeymoon?" as I know you've just returned!  Congratulations on this new milestone in your life. Life isn't all about work, or we would all burn out fast, so I think it's important to recognize and celebrate this time.
Adam, let's dive into your "How to Sell SEL" Report. I wanted to go through each of the 5 key findings of the report and discuss each one to perhaps bring more clarity around each of the areas you have uncovered as important for parents of K-12 students. How does that sound?
Q1: For Finding #1: There is broad support among parents teaching SEL-related skills in schools, although the term "social and emotional learning" is relatively unpopular. (Page 1)
I looked at figure-1 and see the SEL skills that were measured in the survey, and my first thought was. Are parents clear what social and emotional skills REALLY mean? I looked at the survey questions and the term social and emotional learning was defined as "The process of developing self-awareness, self-control, interpersonal skills, responsible or ethical decision-making and civic awareness." (page 34)
I mentioned in the backstory that SEL is not just about teaching our next generation how to hold open doors for each other, or to be responsible citizens. These are character traits that I agree need to be taught (and I saw one character trait being measured)—prepare students to be an active and informed citizen. When conducting this survey, I think there were still some grey areas that could use some clarity for parents to grasp the importance of these skills, that Casel.org has proven with their research[iv] to provide an 11-percentile point gain for students who learn and implement these SEL skills.  With this first finding, I wanted to break down the skills that you measured so that parents, educators, and policymakers can see which skills are social and interpersonal, which ones are emotional and the skills that are cognitive. This way, it takes the emphasis off the term "social and emotional skills" that people might have their own cognitive bias with--and look at these skills broken down into these 3 categories, so that we can then see which categories parents place more value on.
To break these skills into 3 clear categories, I've used a report developed by Hank Resnik for The Aspen Institute called Integrating Social, Emotional and Academic Development: [v] where he  brings clarity to the term "social and emotional learning." From looking at the 3 categories in Hank Resnik's report, it looks like parents in your survey
Valued Setting Goals and Working Towards Achieving Them (93%) which is listed as a Cognitive Skill
Approaching Challenges in a Positive Way (91%) which I think would fall under Social and Interpersonal Skills.
Parents next valued students Believe in Themselves and Their Abilities (91%) which I would put under the Emotional category.
Navigate Social Situations (Social-Awareness-Social and Interpersonal)
Respond Ethically (Social-Awareness-Social and Interpersonal)
Prepare to be an Active, Informed Citizen (Social-Awareness-Social and Interpersonal)
Understand, Express and Control Their Emotions (Self-Management-Emotional)
Empathize with the Feelings of Others (Social-Awareness-Social and Interpersonal).
Question 1: To me, when we break down the competencies into these 3 sections (cognitive, social and interpersonal and emotional) it seems like parents put the most value on setting goals and working towards them, which is a cognitive skill, Social and Interpersonal Skills (Mindset, Social Awareness) next, and emotional skills last (empathize with others/stand up for people of different backgrounds). What do you think about these findings? When we put the competencies into clear categories, what do you think about the fact that parents value setting and achieving goals over standing up for people with different backgrounds and empathizing with the feelings of others? If page 11 of the report noted a quote about the importance of our citizens to empathize with others, why did empathy show up last in the first findings, do you think?
Horacio Sanchez, the author of the Poverty Problem--Empathy plays a critical role in reading comprehension. Low empathy, low comprehension.
COGNITIVE SKILLS FIRST 
Setting/Achieving Goals (93%)
SOCIAL AND INTERPERSONAL
CHARACTER TRAIT of CITIZENSHIP
SELF-MANAGEMENT-Understand and Manage Emotions (82%)
SOCIAL-AWARENESS-Empathize with the Feelings of Others (81%)
Figure 2: Integrating Social, Emotional and Academic Development (page 3)
Social and Interpersonal Skills like:
How to navigate social situations
Resolving conflicts
Showing respect towards others
Emotional Skills like:
Recognizing and managing one's emotions
Empathy: the ability to understand the emotions and perspectives of others
The ability to cope with frustration, disappointments and stress
Finally, there's Academic or Cognitive Skills, the core skills our brain uses to think, read, remember, reason and pay attention. Skills like:
Focus
Setting goals
Planning and organizing
Perseverance
Problem solving
I have followed Stephanie Jones from Harvard[vi] over the years and her work on SEL Frameworks defines the domains with the three we mentioned (cognitive, social and emotional) in addition to values, perspectives and identity which I think are important to note as well.  
Do you think that values that include character skills, virtues and habits were clear where they fit into the realm of social and emotional learning instruction for parents? I think Values and Character are separate from SEL skills, and Identity/Mindset/Self-efficacy is important, just like your survey shows with the next findings.
Q2: For findings #2: Democratic parents favor schools allocating additional resources to SEL more than Republican parents do. 
Students should be given honest feedback for them to learn from mistakes/grown (which both parties agree on). When I see the discrepancy with students' SEL needs must be met for them to reach their academic potential (89% for D and 75% for R) it makes me think that R are unclear of what exactly these SEL skills are. If they knew about how CASEL's research shows that students who studied these SEL competencies show an 11-percentile academic gain, wouldn't they all agree that students' SEL needs must be met for them to reach their full potential?
Q3: Across the political spectrum, parents regard families as the most important entities for cultivating SEL yet there are partisan differences regarding how and where to emphasize SEL instruction.
Q3: I wasn't surprised that the term "Social and Emotional Learning" is less popular than life skills, because going back to our question #1, I don't think there is clarity around what these skills are.  Every single SEL webinar I attended began with someone giving a framework or clear definition of these skills so that educators began to see them in terms of SEL competencies.
Stephanie Jones from Harvard's Easel Lab[vii] and her work on SEL Frameworks clearly defines the domains with the three we mentioned (cognitive, social and emotional) in addition to values, perspectives and identity which I think are important to note as well.  
For those who answered the survey and have their own assumption of what these skills are, will choose a term that fits what they think they are, and the problem I see, is that the survey leaves out the research behind these important skills. If we go back to Hank Resnik's report from the Aspen Institute, life skills correlate closer to cognitive skills, but they leave out the skills that I've uncovered in this podcast that 58% of Employers Say Students Aren't Learning in College.[viii]
with communication being one of them, which is a social and interpersonal skill. Adam, do you think that if Social and Emotional Learning was better defined with your survey, that all 2,000 respondents saw them divided how Hank divided them, with the research attached, and the survey that follows the importance of these skills in the workplace, that the label or term "Social and Emotional Learning" would have a wider acceptance?
Q4: Republicans are somewhat more wary than Democrats that SEL might divert schools away from academics or conflict with their own values.  This has been something I have heard for years, from students, teachers, parents, and from our publishers who wonder how important these SEL competencies are. Do these skills really make an impact on our next generation of students? 
Casel.org's research says it does. I dive deep into the 5 SEL Competencies and why they are so important on a recent podcast episode #152[ix] with an expert in psychology and cognitive neuroscience, Dr. Howard Rankin, since the research is clear and shows us that students with strong SEL health "demonstrate self-control, communicate well, problem solve, are empathetic, respectful, grateful, gritty and optimistic."[x]
"Success in life, and in college and career specifically, relies on student's cognitive, social, and emotional development. (Integrating Social, Emotional and Academic Development: An Action Guide for School Leadership Teams[xi]) page 4
"Research shows that teaching these skills result in immediate and long-term improvement in academic achievements and are a better predictor of success than academic ability alone." (Perspectives of Youth on High School and SEL Webinar, Dec. 11/18).[xii]
Were the parents surveyed aware of the research behind SEL impacting academic achievement? What do think of these findings? Saying they are important and instilling them in your own children are 2 completely different things.
Have they ever tried teaching these skills to their own children? I ask this because I've been aware of these skills since I saw them impacting a group of teens in the late 1990s, so of course, when my kids were old enough, I had them setting goals until they hit a certain age, and they started rolling their eyes at me when I would say "ok, what do you want to accomplish this year?" The yellow chart paper that used to hang up on their bedroom walls have been replaced with gymnastics trophies, and my girls don't listen to me anymore…but they listen to their coaches at the gym. I saw that these skills were taught more effectively outside of the home. I can only reinforce these skills, like I do with healthy eating, but they stopped goal setting with me, and would prefer to do that with their coach at the gym.
Q5: Differences by parents' race, class and religion are rarely as pronounced as differences by political affiliation and parents of different races prefer varying SEL related program names (Developing Grit/Emotional Intelligence/Positive Youth Development/Character Education).
For thing angle, I consulted with my good friend Horacio Sanchez, the author of The Poverty Problem, since our conversation on the podcast covered race and religion, and when I don't know something, I like to ask others to gain a different perspective and he said to me "When non-political issues are politicized, it often stems from how its being portrayed and being informed" and asked "do you think the political debate concerning SEL is related to the lack of understanding of what it is?"
What do you think?
DIVING DEEPER INTO WHAT PARENTS THINK AND FEEL ABOUT SEL:
Andrea and Adams discuss these comments about the view of parents/SEL.
"Confidence is built by doing"  Andrea discusses with Adam that these skills can translate cross-curricular (math/confidence) blasting through a math problem, building confidence, but have a discussion about it so that it's not missed that it was perseverance and persistence that helped the student to solve the problem.
Parents need to teach and reinforce SEL with their kids. Yes, we all must teach and reinforce these skills. Home/schools/sports. There are many skills I cannot teach my children (even though I have tried) but they learn them through their coaches through sport. It's takes a village.
We must know how these skills translate back towards our academics, and think deeper about what improves our mathematical skills. (Dr. Ratey's[xiii] work- Naperville's Trends in International Mathematics and Science Study (TIMSS) where they scored #1 in science and #6 in math, in the world, proving that there was something unique that Naperville had discovered with correlation of exercise and academic achievement).
Navigating relationships is important (which is why it's one of Casel's 5 competencies) and being mindful of behavior and consequences (brings us back to neuroscience and the brain with executive functions/thinking).
This is why teachers must be trained in trauma-informed practices and understand how the brain works. Horacio Sanchez[xiv] Dr. Bruce Perry (What Happened to You Book) and Dr. Lori Desautels[xv] all teach how the brain impacts learning.
Adam, I want to thank you very much for your time today, discussing something that I know we both agree is important to unpack a bit more.
What are your final thoughts?
For those who want to learn more about the report, what is the best way to access it? https://sel.fordhaminstitute.org/ 
Thank you!
REFERENCES:
[i] https://fordhaminstitute.org/tags/washington-dc
[ii] https://casel.org/sel-framework/
[iii] Chey and Pav Speak to Andrea Samadi about Social and Emotional Learning in our Schools https://open.spotify.com/episode/0IaXGeegsY2d3Y23WmCgRa?go=1&utm_source=embed_v3&t=0&nd=1
[iv] https://casel.org/research/
[v]Integrating Social, Emotional and Academic Development: An Action Guide for School Leadership Teams by Hank Resnik March 2019  https://www.aspeninstitute.org/wp-content/uploads/2019/03/UPDATED-FINAL-Aspen_Integrating-Report_4_Single.pdf
[vi] https://easel.gse.harvard.edu/people/stephanie-m-jones
[vii] https://easel.gse.harvard.edu/people/stephanie-m-jones
[viii]Employers Say Students Aren't Learning Soft Skills in College by Dana Wilkie October 21, 2019 https://www.shrm.org/resourcesandtools/hr-topics/employee-relations/pages/employers-say-students-arent-learning-soft-skills-in-college.aspx
[ix] Neuroscience Meets Social and Emotional Learning Podcast EPISODE #152 with Dr. Howard Rankin and Andrea Samadi  https://andreasamadi.podbean.com/e/expert-in-psychology-cognitive-neuroscience-and-neurotechnology-howard-rankin-phdinterviews-andrea-samadi/
[x] SEL: The Why and Hows of Implementation in a School District (Edweb) https://home.edweb.net/webinar/sel20190404/  (April 4, 2019)
[xi] Integrating Social, Emotional and Academic Development: An Action Guide for School Leadership Teams by Hank Resnik (March 2019) https://education-first.com/wp-content/uploads/2019/03/UPDATED-FINAL-Aspen_Integrating-Report_4_Single.pdf
[xii] Report By Civic with Hart Research Associates Jennifer L. DePaoli, Matthew N. Atwell, John M. Bridgeland & Timothy P. Shriver
Respected: Perspectives of Youth on High School & Social and Emotional Learning  https://casel.org/wp-content/uploads/2018/11/Respected.pdf  CASEL WEBINAR https://www.youtube.com/watch?v=Q3Nsr7ELsNQ
[xiii] Neuroscience Meets Social and Emotional Learning Podcast EPISODE #116 with Dr. John Ratey  https://andreasamadi.podbean.com/e/best-selling-author-john-j-ratey-md-on-the-revolutionary-new-science-of-exercise-and-the-brain/
[xiv] Neuroscience Meets Social and Emotional Learning Podcast EPISODE  #74 with Horacio Sanchez https://andreasamadi.podbean.com/e/leading-brain-science-and-resiliency-expert-horatio-sanchez-on-how-to-apply-brain-science-to-improve-instruction-and-school-climate/
[xv]Neuroscience Meets Social and Emotional Learning Podcast EPISODE #56 with Dr. Lori Desautels  https://andreasamadi.podbean.com/e/educational-neuroscience-pioneer-dr-lori-desautels-on-her-new-book-about-connections-over-compliance-rewiring-our-perceptions-of-discipline/