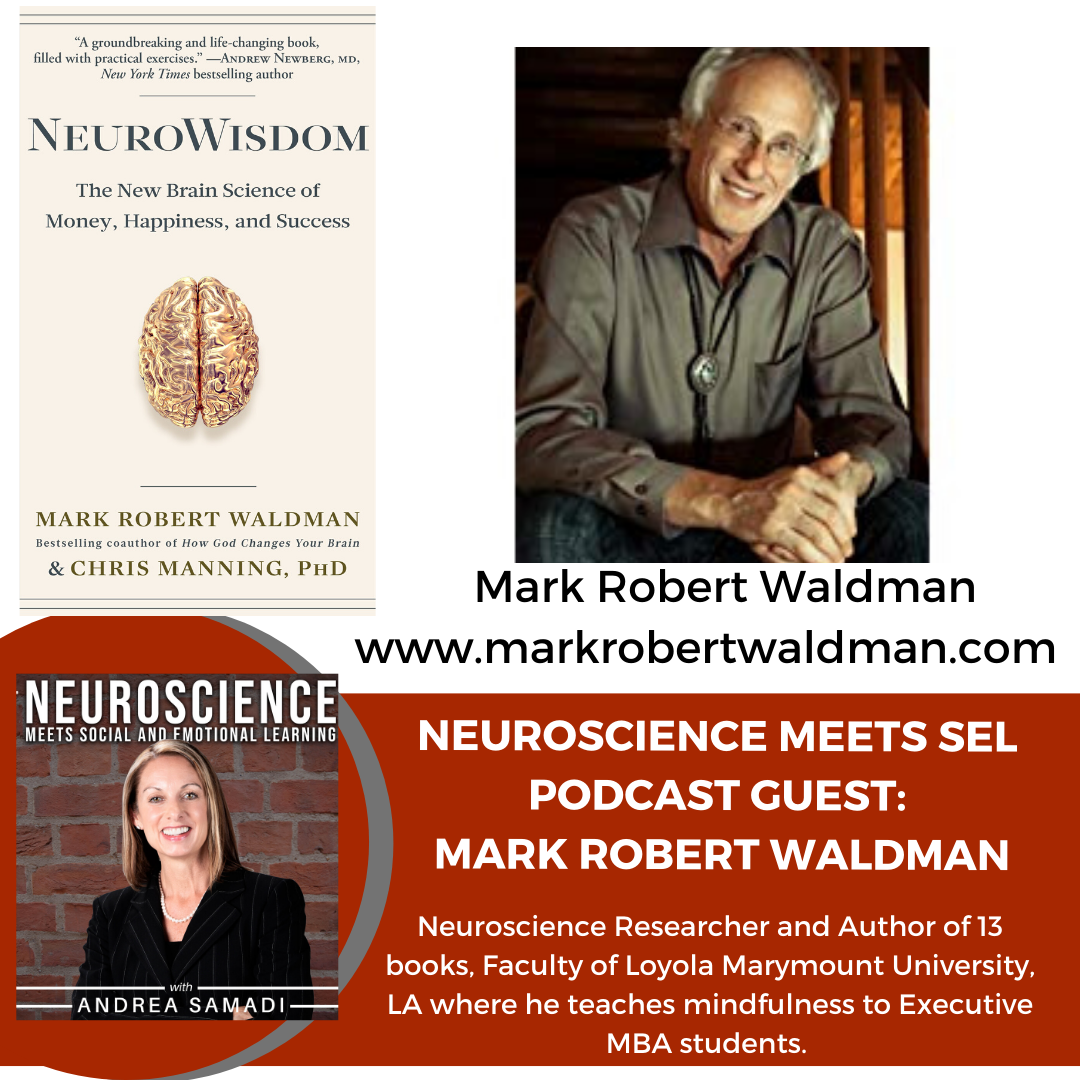 This is episode #30 with Mark Robert Waldman, one of the world's leading neuroscience researchers on consciousness, communication, and spirituality, and his discoveries have been published in journals throughout the world. You can listen to the podcast here, or watch the interview and presentation on YouTube.

Welcome to the "Neuroscience Meets Social and Emotional Learning" podcast, my name is Andrea Samadi, a former educator who has been fascinated with understanding the science behind high performance strategies in schools, sports and the workplace for the past 20 years. Today we have one of the leading neuroscience researchers in the country who I was blessed to be mentored by 5 years ago when I needed to add the most current brain research to my programs. Mark has an international practice as a NeuroCoach, training students and business leaders how to use the latest discoveries in neuroscience to enhance personal and professional development.  I can say that if I was able to learn this information, well enough to teach it to others, that anyone can. Mark took his time and was patient as I learned the basics of neuroscience and he taught me in such a way that I never once felt that the information was too difficult to grasp though it did take effort and focus to learn these new concepts.
Mark has authored 14 books, including the bestseller How God Changes Your Brain, an Oprah pick in 2012. His new book called NeuroWisdom: The New Brain Science of Money, Happiness, and Success contains 100 evidence-based strategies, with guided audios and videos, showing you how to manipulate and balance the major networks of consciousness, awareness, and imagination.  These tools are now used in schools, health centers, and businesses throughout the world.  He teaches at Loyola Marymount University and his work has been featured in Time Magazine, the Washington Post, the New York Times, Forbes, Entrepreneur, and Oprah Magazine. He has been on hundreds of radio and television programs including PBS and NPR. For more information, go to www.MarkRobertWaldman.com.  You can find Mark on Twitter @MarkRWaldman, LinkedIn or Facebook.
Welcome Mark! It's always fun to speak with you. I'm so grateful for all that you've taught me.
I know you have a presentation planned and will share your screen with us. Before we dive into your lesson:
Can you explain what exactly "Neurowisdom"[i] is (the title of your most recent book) and how we can discover this new voice to guide us towards a greater sense of awareness?
Questions Mark will uncover during presentation:
  You Will Learn:
What is Brain-based Experiential Learning and Living
How to use your Intuition
Brain-Network Theory
New Brain Science for Overcoming Anxiety
How the Brain Learns
Discover how your brain likes to learn (it will surprise you and has nothing to do with what you've experienced the classroom)
2. Find out why mind-wandering and daydreaming are essential for psychological health. Right in line with Srinivasan Pillay's book "Tinker, Dabble, Doodle, Try" that talks about the default network in the brain and the power of "unfocusing" your brain. Mark's book "Neurowisdom" was the first book to talk about the default network mode and provides many practical examples for using your brain to improve finances, happiness and success.
3. Learn how Brain Network Theory is changing the world of neuroscience…and your health!
4. See what living neurons and networks actually look like.
RESOURCES:
Mindfulness Bell App (search in the app store)
[i] Mark Robert Waldman and Chris Manning Neurowisdom: The New Brain Science of Money, Happiness and Success (Jan 31, 2017)  https://www.amazon.com/dp/B01N9BLBDH/ref=dp-kindle-redirect?_encoding=UTF8&btkr=1
[ii] Mark Robert Waldman and Chris Manning Neurowisdom: The New Brain Science of Money, Happiness and Success (Jan 31, 2017)  https://www.amazon.com/dp/B01N9BLBDH/ref=dp-kindle-redirect?_encoding=UTF8&btkr=1     Page 23
[iii] Mark Robert Waldman and Chris Manning Neurowisdom: The New Brain Science of Money, Happiness and Success (Jan 31, 2017)  https://www.amazon.com/dp/B01N9BLBDH/ref=dp-kindle-redirect?_encoding=UTF8&btkr=1     Page 24
[iv] https://en.wikipedia.org/wiki/Wilson_Ramos
[v] Mark Robert Waldman and Chris Manning Neurowisdom: The New Brain Science of Money, Happiness and Success (Jan 31, 2017)  https://www.amazon.com/dp/B01N9BLBDH/ref=dp-kindle-redirect?_encoding=UTF8&btkr=1     Page 24
[vi] Mark Robert Waldman and Chris Manning Neurowisdom: The New Brain Science of Money, Happiness and Success (Jan 31, 2017)  https://www.amazon.com/dp/B01N9BLBDH/ref=dp-kindle-redirect?_encoding=UTF8&btkr=1     Page 27
[vii] Mark Robert Waldman and Chris Manning Neurowisdom: The New Brain Science of Money, Happiness and Success (Jan 31, 2017)  https://www.amazon.com/dp/B01N9BLBDH/ref=dp-kindle-redirect?_encoding=UTF8&btkr=1     Page 28
[viii] Mark Robert Waldman and Chris Manning Neurowisdom: The New Brain Science of Money, Happiness and Success (Jan 31, 2017)  https://www.amazon.com/dp/B01N9BLBDH/ref=dp-kindle-redirect?_encoding=UTF8&btkr=1     Page 82