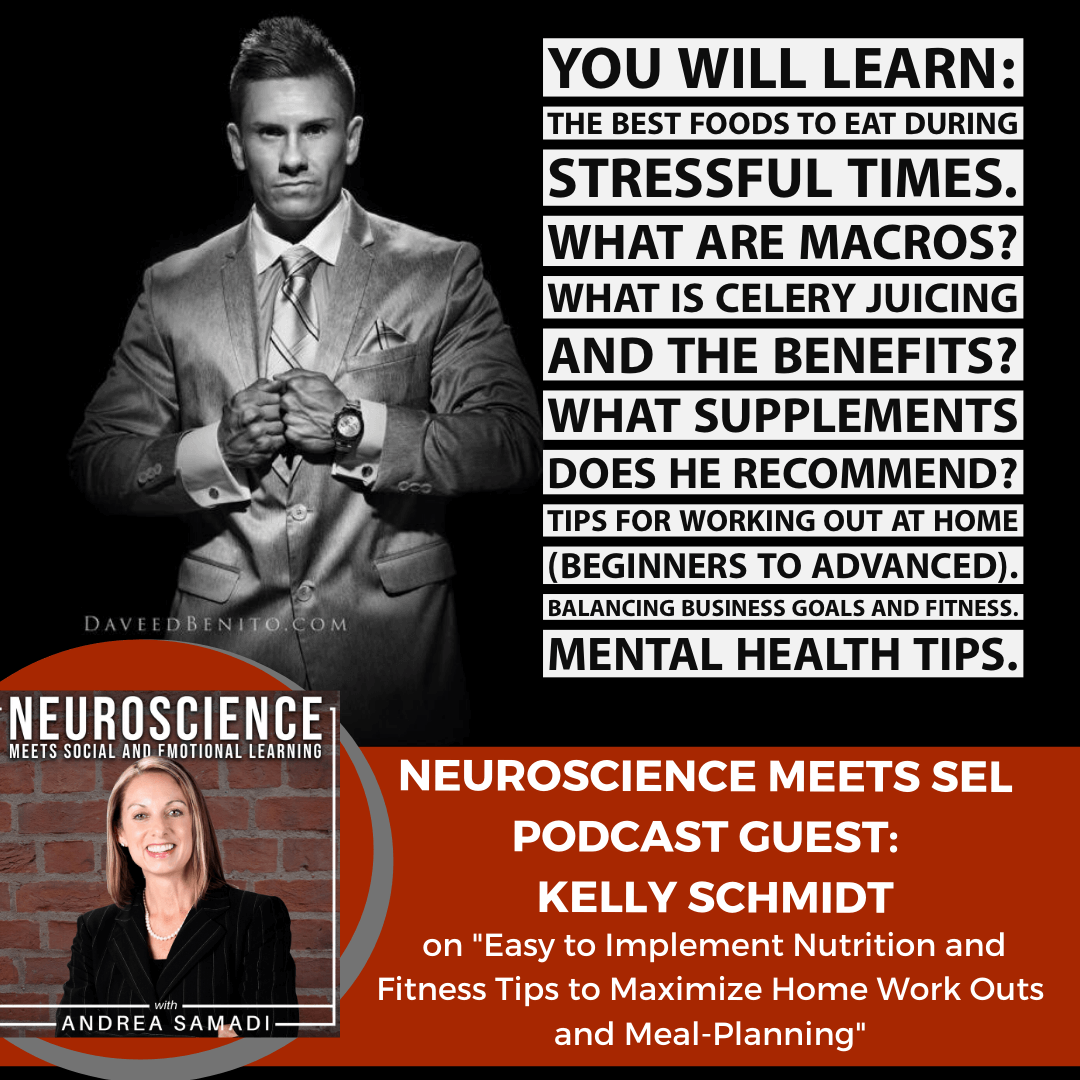 This is episode #51, Welcome to the Neuroscience Meets Social and Emotional Learning podcast, my name is Andrea Samadi, I'm a former educator whose been fascinated with understanding the science behind high performance strategies in schools, sports and the workplace for the past 20 years. Each week we bring you an expert who has risen to the top of their industry with specific strategies that you can implement immediately, whether you are a teacher or student in the classroom, or working in the corporate world, to take your results to the next level. If you are like me, and love to learn, grow, challenge yourself and always are looking for that competitive edge, listen closely to the tips our next guest has to say, and write down the ones that you want to implement immediately. Watch the interview on YouTube here. 
Our guest today has been training my husband and I since we were dating back in 2006, and I can honestly say that I would never hire another trainer after working with him. He not only challenges our fitness and nutrition goals, but also wants to know what's going on with our businesses and family life.  Let me tell you more about this incredible entrepreneur.
Kelly Schmidt[i], is one of the leading personal training and fitness experts in Arizona, who has over 20 years of personal training and health development experience all over the world with his online and in person training programs. When Kelly graduated from high school, he was 115 pounds (which is hard to imagine knowing him today) but he says he felt that he was the little guy, which fueled his transformation that took him to 3rd place in his first professional body building show just 5 years ago (in 2015). He now coaches busy professionals all over the world in person at his gym in Glendale, AZ and with his online training programs to help people fit health and fitness into their lifestyle for long term, sustainable results.[ii] 
Welcome Kelly! Kelly, the minute I got the notification that all gyms were closing, I thought of you to help people at all different stages of health, with these strange times where we are quarantined inside our homes. You came to my mind immediately because you've been working all year with me on workouts, I can do at home so that I spend less time in the gym. I've been seeing posts from people all over the place asking questions about the best way to begin an exercise program. I do want to add the disclaimer, that for anyone at the beginning of their health and fitness journey, please do begin with consulting with your healthcare provider before trying anything new.
Kelly, thanks, so much for being here today, and sharing your ideas and tips with us to help those who might be at the start of their fitness journey, to those looking for more challenge with a home workout because with you, that's exactly what you'll get.   
The first question I have for you is on nutrition, which is such a wide topic. We all have different health goals (some people want to lose weight, others gain weight, add more muscle) what would you suggest are some best practices for ALL of us with our nutrition these days? I know that you taught us meal-prepping, and what we should be eating/not eating. Has anything you are doing changed? Is there any staple food that you used to buy that you can't get these days? How has your nutrition stayed the same and how has it changed?
I had a doctor years ago get me off sugar when he was researching the impact of sugar on our health and he wrote this book called Sugar Crush: How to Reduce Inflammation, Reverse Nerve Damage, and Reclaim Good Health.[iii] I had some health issues that went away 100% and ever since then, I've been wary of even fruits because he had me stop eating anything with sugar, and specifically high glycemic fruits. Do you stay away from any fruits and what do you put in your shakes? What impact do you see sugar having on you?
What are macros? How can people figure out what's the best combination for them or is even talking about macros over kill? I don't want to stress people out, so how important do you think it is that people have an idea of the numbers that work best for them with the ratio of fats/proteins/carbs that they should be consuming?
What about Celery Juicing. You started us on this practice a few years ago, since we are on our 2nd celery juicing machine.[iv] Then I started to follow this expert Anthony William who is @medicalmedium on Instagram and he's been helping millions of people around the world for years with his book Celery Juice: The Powerful Medicine of our Time Healing Millions Worldwide.[v]  What benefits have you noticed with this?
I've been learning from Dr. Daniel Amen on the best nutraceuticals to take to help improve my health and what sticks out to me is that he mentions that most people are deficient in Omega 3 fatty acids, so I force myself to take fish oil daily. What supplements do you take daily? Have you added more vitamin c lately?
I know what cardio exercise you do daily because we share our activity through the activity app on our watches. I know that people can do this on their Fit Bit as well. Can you share what your daily workouts look like with what you do for cardio, and strength training and what would be 10 exercises that people could do at home that are just as impactful as using machines at the gym?
Besides exercise, what are you doing for your mental health?
How are you balancing your business and fitness goals? What does your daily schedule look like?
Thanks so much Kelly for sharing your thoughts with us. I'm so grateful to have you as a friend, and for all you have done to help support our family, and for the business ideas you've shared. It was Kelly who suggested I record my podcasts on video and put them up on YouTube! Great idea, I really appreciate you. For those who want to learn more about your programs,  they can visit http://www.lifefuzionfitness.com/programs/ and follow you on social media. If anyone wants to access your FREE home video workouts, they can email you at kelly@lifefuzionfitness.com  Keep up the incredible work, and thanks for the decades of health tips and inspiration.
RESOURCES:
Will Fruit Make You Fat? Kelly Schmidt  https://www.youtube.com/watch?v=HMz9pOIWO_s
What Are Macros? Kelly Schmidt https://www.youtube.com/watch?v=VliM09e653A
REFERENCES:
[i] http://www.lifefuzionfitness.com/kelly-schmidt/
[ii] http://www.lifefuzionfitness.com/lifestyle-blueprint/
[iii] Sugar Crush: How to Reduce Inflammation, Reverse Nerve Damage, and Reclaim Good Health by Dr. Richard P. Jacoby and Rachuel Baldelomar https://www.amazon.com/Sugar-Crush-Inflammation-Reverse-Reclaim/dp/0062348221
[iv] Celery Juicing Machine https://www.amazon.com/gp/product/B07DKFH9QM/ref=ppx_yo_dt_b_asin_title_o07_s00?ie=UTF8&psc=1
[v]Celery Juice: The Powerful Medicine of our Time Healing Millions Worldwide by Medical Medium Anthony William https://www.amazon.com/Medical-Medium-Celery-Juice-Worldwide/dp/140195765X