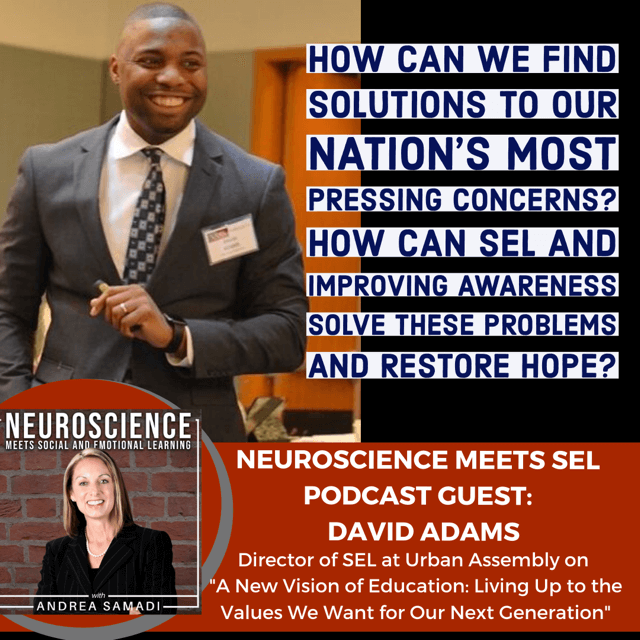 This is EPISODE #54 with David Adams. You can watch the interview on YouTube here. 
Welcome to the Neuroscience Meets Social and Emotional Learning podcast, my name is Andrea Samadi, I'm a former educator whose been fascinated with understanding the science behind high performance strategies in schools, sports and the workplace and created this podcast to bring the most current neuroscience research, along with high performing experts who have risen to the top of their field with specific strategies or ideas that you can implement immediately, whether you are a teacher or student in the classroom, or working in the corporate world, to take your results to the next level. 
Thanks for tuning into the podcast today!
If this is your first time here, I am so grateful that you have taken the time to listen. I am so excited about our guest today. His name is David Adams, and I've been watching his work, seeing his posts on social media and he's doing some ground-breaking work. I noticed when he spoke on a panel[i] with former CNN host and educational activist Campbell Brown, Founder, The Seventy Four[ii]; (a phenomenal education focused website that I love learning from)  Susan Crown, Founder of the Susan Crown Exchange[iii]; (whose mission is to help people acquire the skills needed to succeed and thrive in a rapidly changing and connected world), Marc Brackett, Director Yale Center for Emotional Intelligence[iv] (who did EPISODE #22 on his book "Permission to Feel")[v] and Karen Niemi, (Neemi) President & CEO, CASEL[vi].  If we are truly "the sum of the five people we spend the most time with" like Jim Rohn once said, you can only guess how impressive his bio is going to be.
David is The Urban Assembly's Director of Social and Emotional Learning,[vii] where his team builds schools' capacity to ensure that all staff and students they work with receive relevant experiences and purposeful instruction to develop the social emotional competencies that impact students' success in school, work, and life. (Everything that we speak about on this podcast).  He is on the Board of Directors for CASEL (The Collaborative for Academic, Social and Emotional Learning) which is the trusted source for knowledge about high-quality, evidence-based social and emotional learning and I have to mention that he was also a Civil Affairs Officer in the United States Army, so you know that he is on a serious mission to achieve results.
David, welcome! Thank you so much for being here today.
Q1: I've read quite a BIO for you, and it seems that when we are dealing with education that we have a certain expectation of what we are looking for (whether it's our students learning in the classroom, professional development for teachers, or even choosing the right assessments that measure what we are learning). What does it mean to you for a person to be educated?
Q2: With everything that you see going on in the world today, why do you think our communities are struggling so much to solve problems across differences?
Q3: In your recent article[viii] A New Vision of Education: Reimagining the Social Contract you talk about the fact that nobody is perfect, but we all have a responsibility to strive to live up to the values we want the next generation to embody.
You talked about this phenomenon where education level is negatively correlated to the accuracy of perception of people across the political spectrum. Can you explain what you mean here, and why do you think this is the case?
Q4: Tell me a little bit about the neuroscience behind this and how SEL specifically improving awareness can help us to all move forward. 
Q5: What are your final thoughts for how we can use SEL to solve our nation's most pressing concerns to restore some hope, especially during these uncertain times?
Thank you so much for your time today, and for sharing your insights with us. If anyone wants to reach you to learn more about your programs at the Urban Assembly, what is the best way? You can find David Adams on LinkedIn https://www.linkedin.com/in/david-adams-10236721/ or on Twitter https://twitter.com/DAdams_SEL 
REFERENCES:
[i] David Adams with Campbell Brown, Founder, The Seventy Four; Susan Crown, Founder of the Susan Crown Exchange; Marc Brackett, Director Yale Center for Emotional Intelligence and Karen Niemi, President & CEO, CASEL. https://urbanassembly.org/news-press/uas-director-of-social-emotional-learning-david-adams-at-chicago-ideas-week
[ii] The 74 https://www.the74million.org/
[iii] The Susan Crown Exchange http://www.scefdn.org/
[iv] Marc Brackett  https://www.marcbrackett.com/
[v] Neuroscience Meets SEL EPISODE #22 Marc Brackett on his book "Permission to Feel" https://podcasts.apple.com/us/podcast/yale-center-for-emotional-intelligence-founder-marc/id1469683141?i=1000450933434
[vii] https://urbanassembly.org/strategy/social-emotional-learning
[viii] A New Vision of Education: Reimagining the Social Contract by David Adams (March 17, 2020) https://thriveglobal.com/stories/a-new-vision-of-education-re-imagining-the-social-contract/?