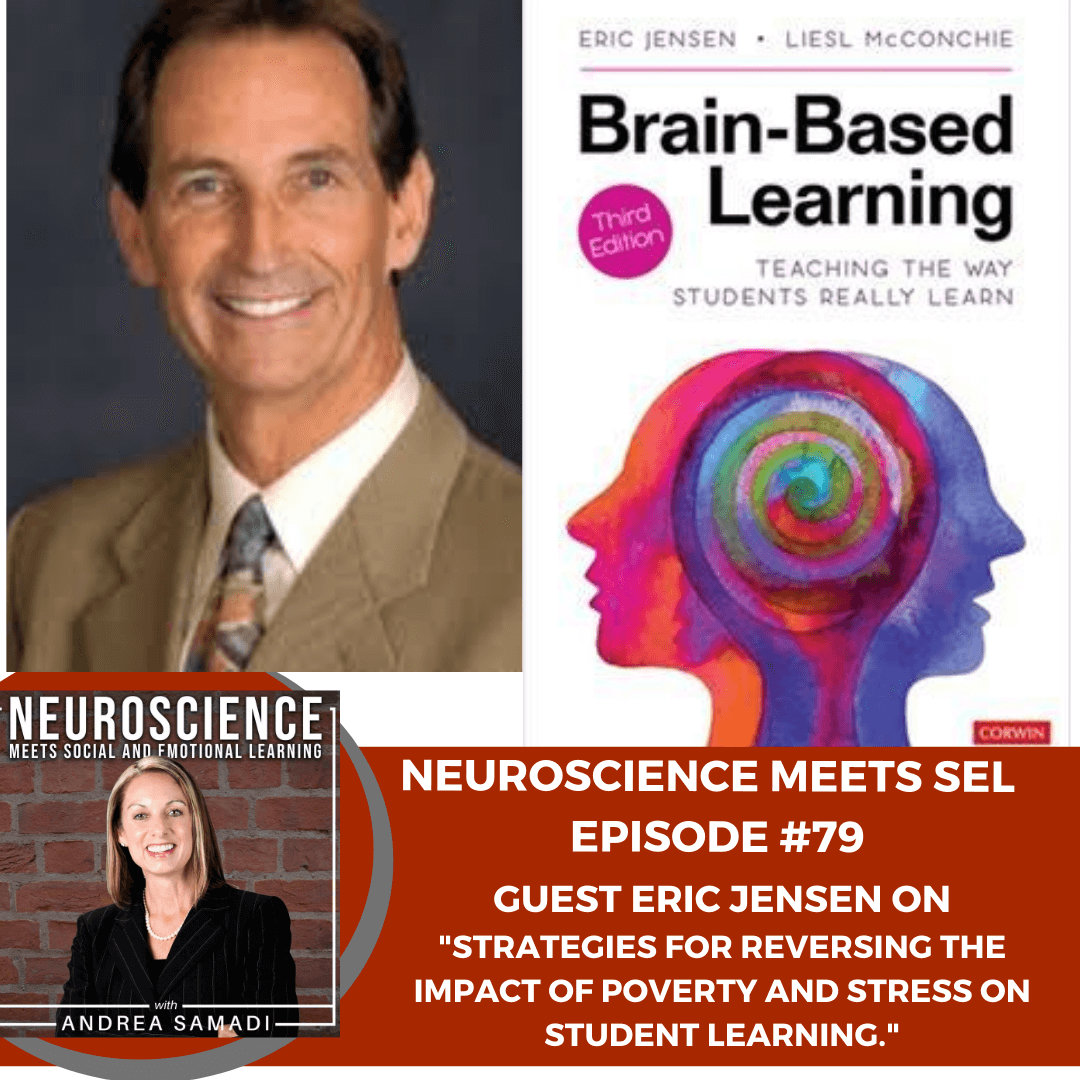 Welcome back to the Neuroscience Meets Social and Emotional Learning podcast, episode #79 with Eric Jensen, a leading authority on the science and applications of brain research in education for more than 20 years. Watch the interview on YouTube here. 
For those who are new here, my name is Andrea Samadi,  I'm a former educator who created this podcast to bring the most current neuroscience and educational research, matched with social and emotional skills, with interviews from experts who have risen to the top of their field with specific strategies or ideas that you can implement immediately, to take your results to the next level.
Thank you so much Eric, for coming on this podcast today.  Where have I reached you?
Just to give some background of Eric Jensen and his work:
Dr. Eric Jensen is a former teacher and Top 30 Global Guru. He co-founded an academic enrichment program, held in 16 countries with over 85,000 graduates. Jensen has authored over 30 books[i] including 3 bestsellers with his 2 most recent being Brain-Based Learning (in its 3rd edition)[ii] and Poor Students Rich Teaching[iii]. He is also member of the invitation-only Society for Neuroscience.[iv]
Eric, I know that your background has been focused around students and poverty, and how poverty impacts the brain and learning, specifically as it relates to trauma and stress. While our stress levels seem to keep jumping up to new levels each month as new stressors arise, we've got it handled here, as we have both parents working together with our children. I can't help but think of those families who don't have the resources or support that they need and would like to hear your thoughts of solutions that teachers and families could be looking at to better support students at this critical time in our world.
Q1: Can we start off with a brief overview of what stress does to the brain, specifically when we are trying to learn (if we are a student) or complete our work (if we are in the corporate space) as well as to think about the dangers of emotion contagion. What can we do these days to prevent stress from wreaking havoc on our lives, and improve our resiliency with a mind/body integration?
Q2: Right now, it's such an odd time in the world with this global pandemic, but this podcast audience reaches into over 110 countries, and I know that the tips you have for us in the US, will be relevant to those around the world. Can we talk about the topic that I know you focused on with your doctoral dissertation, the fact that 1/5 children grow up in poverty? How does poverty impact a child's brain?
Q3: I mentioned in the beginning, that many children are preparing to go back to school (at least virtually in my State) this week, and I did just interview authors Doug Fisher and Nancy Frey on their book about Distance Learning which provided some great suggestions for transitioning to 100% online learning. I still can't help thinking of low-income families, and how they are coping. Our stress levels are high here as we are adapting to our new schedules, creating new workspaces, (suddenly we realized I need to buy 2 new desks with chairs) new routines, and expectations. What support or words of encouragement would you have for teachers serving low income students who might not have everything they need and their parents as we transition back to school virtually?
Q4: How does exposure to stressors in the home (that we've heard of from children with ACES—Adverse Childhood Experiences) influence a child's working memory? What strategies do you have to teach students with poverty in mind to help students with impulse regulation, visual/spatial skills, language skills, cognitive skills, social and emotional skills and conflict resolution?
Q5: I heard you say that "our DNA is not our destiny" and I just loved hearing this because we don't choose our parents.  Next week I'm speaking with the Founder of the 16 Strong Project, created out of Harvard's Grad School of Education to show other young people that ACES can be mitigated. In your 20 years of working with schools, and students, with a focus on low income students, what success stories have you seen where students were able to change their brains for the better? How do you think they did this?
Q6: What are your final thoughts, or advice to teachers who are looking for new strategies to engage students in effective teaching this fall and upcoming year?
Thank you so much Eric, for taking the time to speak with me. If anyone wants to learn more about your books, and programs/workshops for schools, they can go to https://www.jensenlearning.com/ or find you @EricJensenBrain on Twitter. Thanks so much.
RESOURCES:
Eric's Books
His books include, Teaching with Poverty in Mind[v], Tools for Engagement,[vi] Engaging Students with Poverty in Mind[vii], Turnaround Tools for the Teenage Brain[viii], Poor Students, Rich Teaching[ix] and Different Brains, Different Learners.[x]
REFERENCES:
Kaiser Permanente ACE Study https://www.cdc.gov/violenceprevention/acestudy/about.html
Dr. Lionel Allen, Urban Prep Academy in Chicago, IL https://www.sesp.northwestern.edu/news-center/inquiry/2011-fall/where-are-they-now.html
Dr. Terrence Sejnowski https://www.salk.edu/scientist/terrence-sejnowski/
Learning How to Learn by Barbara Oakley, Terrence Sejnowski and Alistair McConville (August 2018) https://www.amazon.com/dp/B077CRLW9Q/ref=dp-kindle-redirect?_encoding=UTF8&btkr=1
[i] https://www.jensenlearning.com/about-eric-jensen/
[ii] Brain-Based Learning by Eric Jensen https://www.jensenlearning.com/what-is-brain-based-research/
[iii] Poor Students, Rich Teaching by Eric Jensen https://www.amazon.com/Poor-Students-Rich-Teaching-Mindsets-ebook/dp/B01BGAK7ZK
[iv] Society for Neuroscience https://www.sfn.org/
[v] Teaching with Poverty in Mind by Eric Jensen http://www.ascd.org/publications/books/109074.aspx
[vi] Tools for Engagement by Eric Jensen http://www.toolsforengagement.com/
[vii] Engaging Students with Poverty in Mind http://www.ascd.org/Publications/Books/Overview/Engaging-Students-with-Poverty-in-Mind.aspx
[viii] Turnaround Tools for the Teenage Brain by Eric Jensen https://www.jensenlearning.com/turnaround-tools-for-the-teenage-brain/
[ix] Poor Students, Rich Teaching by Eric Jensen https://www.amazon.com/Poor-Students-Rich-Teaching-Mindsets-ebook/dp/B01BGAK7ZK
[x] Different Brains, Different Learners by Eric Jensen https://us.corwin.com/en-us/nam/different-brains-different-learners/book232340