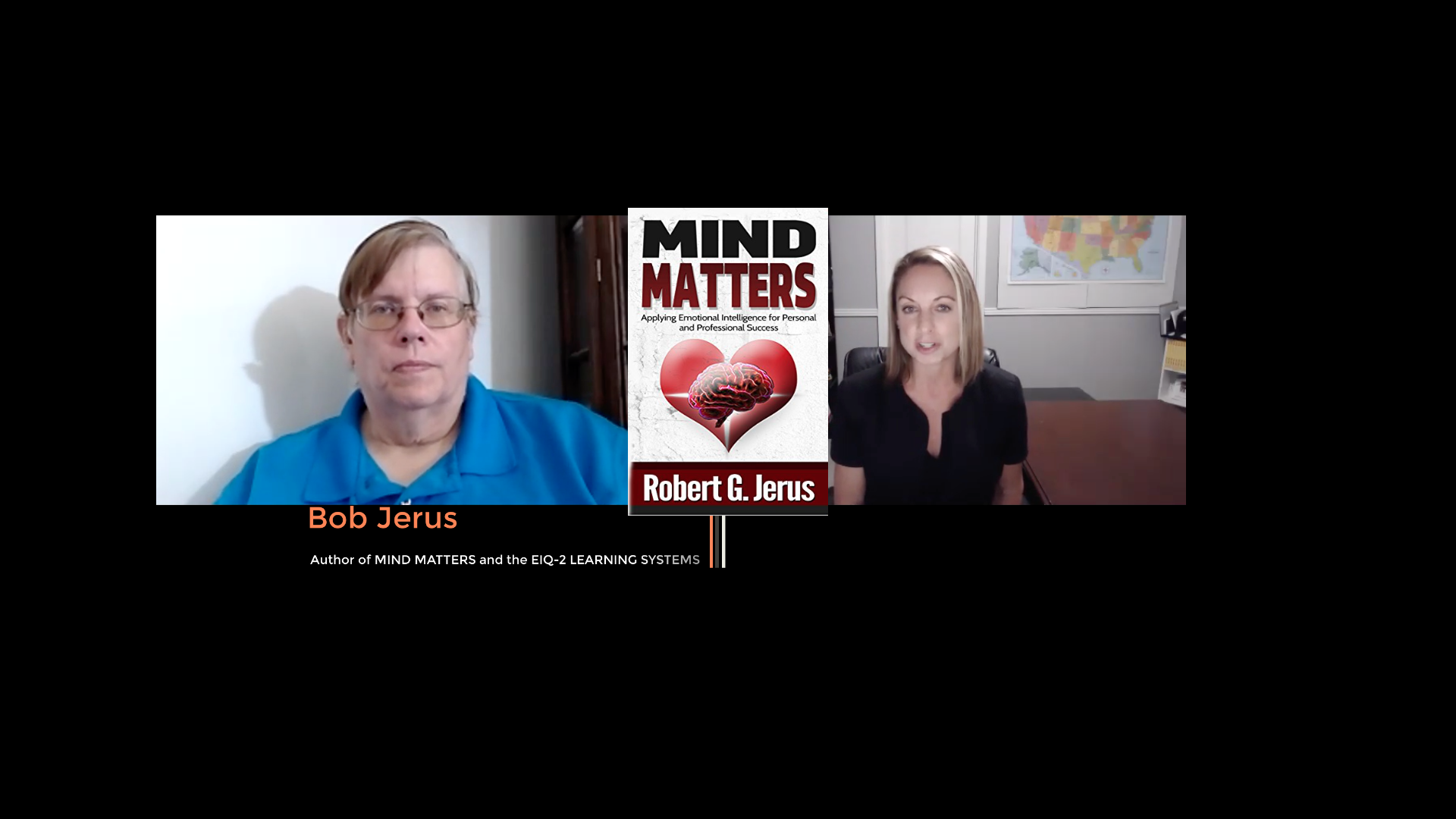 Welcome back to the "Neuroscience Meets SEL Podcast" EPISODE 19 this is Andrea Samadi. This interview will be broadcast on YouTube as well as on the regular podcast channel, so be sure to look for the YouTube link in the show notes if you would like to view the video.
Today we have Bob Jerus, author of "Mind Matters: Applying Emotional Intelligence for Personal and Professional Success"[i] among five other books on the topic of communication, leadership and sales.  His focus is on making performance, teamwork and organizational development happier and more result driven. He's a certified human resource professional with over 30 years of experience in staffing, development, engagement and organizational development. He founded Success Dynamics International and developed the EIQ-2 Learning Systems. As a university professor and administrator, he developed, taught, administered, delivered and assessed both curriculum and courses at graduate and undergraduate levels for traditional, adult education and on-line programs. He's taught marketing, management, HR, adult development and psychology with a focus on measurable, sustainable results.
Bob has been a trusted advisor for the work we do with Achieveit360, and someone I reach out to often for advice with his in-depth knowledge in a wealth of different areas.
Welcome Bob! It's great to speak to you face to face for a change.
Q1: It's interesting and timely that we are speaking on World Suicide Prevention Day since the one of the last times I reached out to you for advice was to get some help in this area with some challenges I was seeing in our local schools. Can you provide some background on where you started your career and perhaps any words of advice on suicide prevention, since this is your area of expertise?
Q2: We see a movement these days to implement social and emotional learning/emotional intelligence programs in our schools and workplaces. Why do you think programs like this are so important right now?
Q3: Your book "Mind Matters: Applying Emotional Intelligence for Personal and Professional Success" explains every facet imaginable for success using Emotional Intelligence for Personal and Professional Success. I love how it's written in a how-to style, connecting the brain and the most recent neuroscience research, with many graphics and visuals to guide the reader towards implementing the wisdom in each chapter. Can you explain why you wrote "Mind Matters" and what is your favorite/most important concept this book teaches? 
Q4: Self-regulation (managing one's emotions) is always the most requested topic I am asked about when working with schools. Obviously, this is a skill that must be trained, but in your experience, why is it so difficult to perceive, understand and manage our emotions so that we can find that balance of self-leadership that's so important in the workplace?
Q5: What is your current vision now for your work with Success Dynamics and bringing Emotional Intelligence into the workplace? 
Q6: Is there anything that I might have missed? Any final words of wisdom that you would like to leave with us to help us to stay focused on applying emotional intelligence for more success in our life?
[i] Mind Matters: Applying Emotional Intelligence for Personal and Professional Success" https://www.amazon.com/Mind-Matters-Emotional-Intelligence-Professional/dp/1502441918
RESOURCES:
Robert Jerus Article from LinkeIn "Suicide: The Final Answer?" https://www.linkedin.com/pulse/suicide-final-answer-robert-jerus-sphr-always-on-your-mind-2e/?trackingId=RjS3pyL0TOeDZnHnxFtEOQ%3D%3D
Emotional Intelligence Training with Bob Jerus http://www.eiq-2.com/