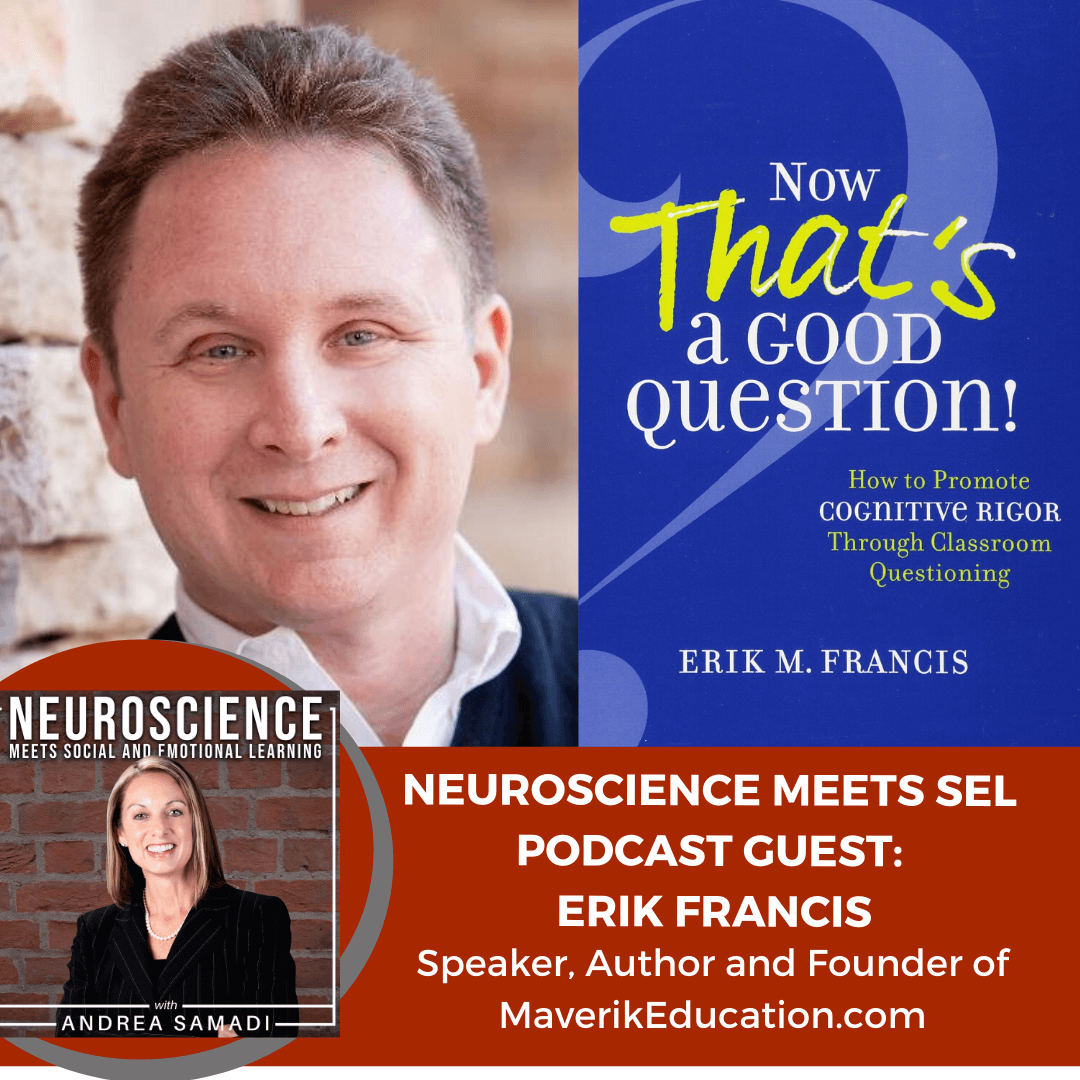 This is episode #41 with Erik Francis, an international author of the book Now THAT'S a Good Question! How to Promote Cognitive Rigor Through Classroom Questioning[i] published by ASCD and presenter with over 20 years of experience working as a classroom teacher, a site administrator, an education program specialist with a state education agency, and a professional development trainer.   He's conducted trainings at K-12 schools, colleges, and universities throughout the United States and internationally in Canada and Singapore.  You can watch the interview with visuals on YouTube.
Welcome to the Neuroscience Meets Social and Emotional Learning podcast, my name is Andrea Samadi, I'm a former educator whose been fascinated with understanding the science behind high performance strategies in schools, sports and the workplace for the past 20 years. Each week we bring you an expert who has risen to the top of their industry with specific strategies that you can implement immediately, whether you are a teacher or student in the classroom, or working in the corporate world, to take your results to the next level. 
Today, we have Erik Francis, the owner of Maverik Education[ii], where he provides academic professional development and consulting to K-12 schools, colleges, and universities on developing learning environments that challenge students to demonstrate higher order thinking and communicate depth of knowledge (DOK).    
Welcome Erik. Thank you so much for being here today (on Valentine's Day of all days) and for the support you've given me over the years as I have been navigating my programs and services in the K-12 school market. It's always a blessing to have a good friend with your knowledge and understanding so thanks for always lending a hand to help us over here and for coming on today to share your knowledge with others. 
Before I get into the questions I have for you, can we first of all talk about cognition or acquiring knowledge and understanding through thought, experience and the senses.  This is a powerful concept as to actually think…takes a lot of effort. Then to think up questions takes even more effort. 
Q 1: Why did you decide to write your book tying in asking good questions to promote cognitive rigor?
When I saw the title of your book, Now That's a Good Question…it made me think about The Four Agreements and the fact that we all need to get better at asking questions to gain clarity.
Q 2: What is cognitive rigor and how can we use questions to challenge anyone to think? What about thinking in the corporate world? Can these concepts transfer into the modern workplace?
Q3: I'm really into creating frameworks or graphics of ideas to help bring clarity to complex thoughts or concepts. Then I heard you speak about how someone created a framework of depth of knowledge that spread across the country and was adopted into every state, but it was inaccurate. Can you explain what exactly is depth of knowledge, where the concept came from, and why the D.O.K. Wheel is inaccurate?
Other Thoughts: When you created your graphic, did you consult with other educators? What can we learn from this? Can Depth of Knowledge be translated into the workplace? What about in sports?
Dok 1- What is the knowledge? Recall and Reproduce.
Dok 2- How can that knowledge be used? Apply it or explain it with basic reasoning.
Dok 3- Why can this knowledge be used? Think strategically.
Dok 4- How else can this knowledge be used? Think extensively.
Apply to the Classroom, workplace, sports? 
Q 4: I'm thinking of when I first saw a graphic created by Casel.org for the 5 sel competencies. I had been working with concepts that we used to call soft skills since the late 1990s and used Casel's 5 competencies, adding in carol dwecks growth mindset to come up with my framework for SEL. Having a framework brings clarity to complex ideas.
When did you first recognize that this graphic needed to be changed? What did you do next to instigate this change? Did you receive criticism for your thoughts? 
Q 5: What are the results of improving questioning in the classroom? What about your own children at home? How are you personally using these ideas?
Other thoughts:
What would your vision be for the classroom of the future? How can we go from where we are now to where these changes can be made? 
Who at the school level needs to be involved in these changes to infiltrate into our classrooms? What can we do as parents at home? 
Q 6: What are you working on now? Your second book on Depth of Knowledge?
If anyone wants to contact you, is the best way through maverikeducation.com? Where else can people reach you?
Thank you so much Erik for your time, knowledge and ideas to encourage all of us to think, and ask questions to gain new knowledge. I look forward to the release of your next book and to continue following your work in this exciting field.
REFERENCES:
[i] Now That's a Good Question http://www.ascd.org/Publications/Books/Overview/Now-Thats-a-Good-Question-How-to-Promote-Cognitive-Rigor-Through-Classroom-Questioning.aspx
[ii]  Maverick Education LLC https://maverikeducation.com/