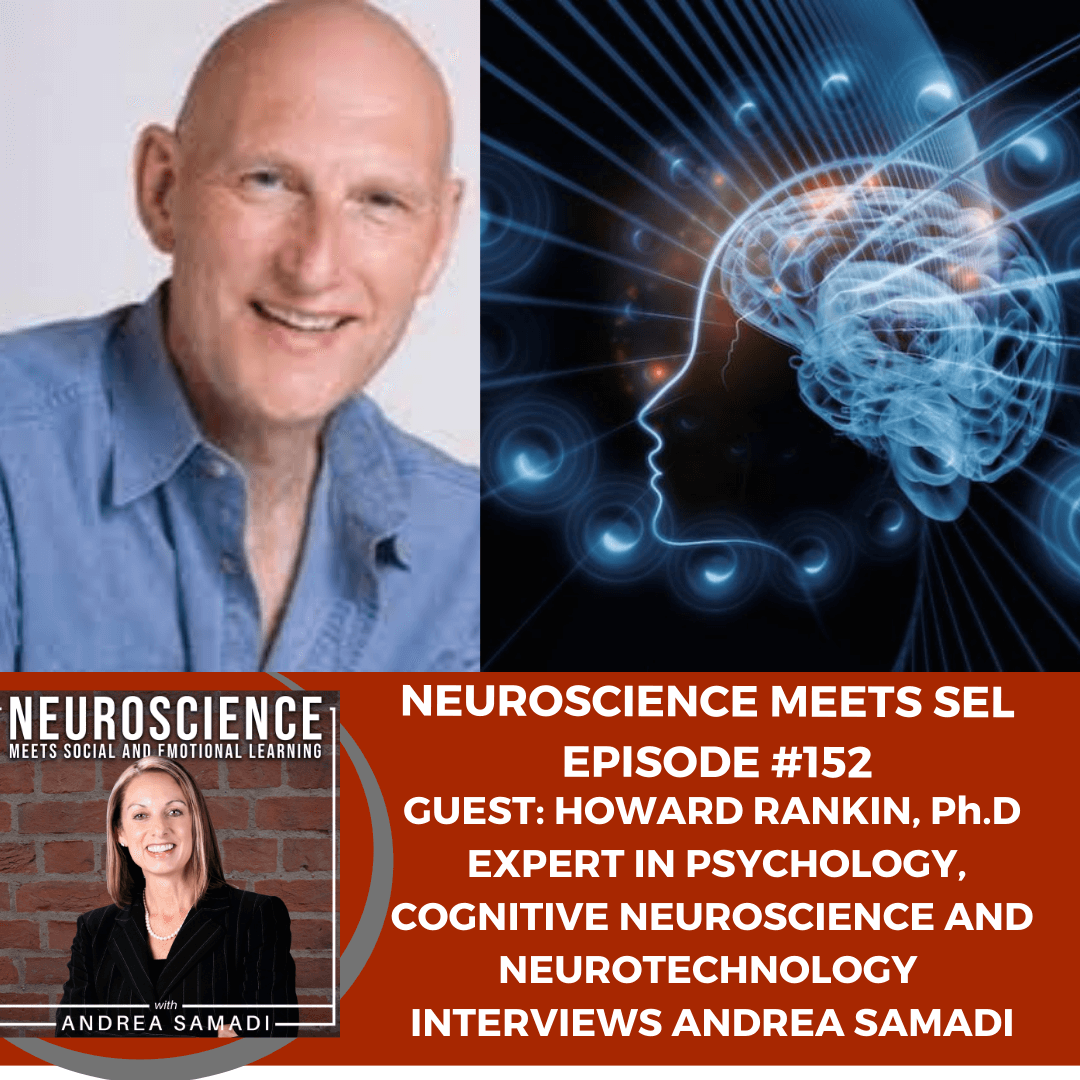 Welcome back to the Neuroscience Meets Social and Emotional Learning Podcast, episode #152 with a special episode with expert in psychology and cognitive neuroscience, Dr. Howard Rankin who will interview me for a change of pace.
Watch the interview on YouTube here https://youtu.be/Sh7_HAGzkhQ
See past episodes here https://www.achieveit360.com/episodes/ 
On this episode you will learn:
✔︎ A review of 3/6 Social and Emotional Learning Competencies
✔︎ Andrea's Background and Where it All Began
✔︎ How She Started Working with Educational Neuroscience
✔︎ How Her Level Up Programs Were Chosen by AZ Department of Education
✔︎ How to Use an Understanding of the Brain to Impact Behavior
✔︎ How to Use Emotional Intelligence in the Workplace
I'm Andrea Samadi, author and educator from Toronto, Canada, now in Arizona, and like many of our listeners, have been fascinated with learning and understanding the science behind high performance strategies in our schools, sports, and the workplace with ideas that we can all use, understand and implement immediately, for improved results.  
This week, with the 2021 Olympics[i] in full swing, some of the headlines have caught my attention, specifically the story of gymnast Simone Biles, since both of my girls are in competitive gymnastics, with a rigorous training schedule. Assistant Superintendent Greg Wolcott, from Chicago, who has appeared on our podcast twice so far with EPISODE #7[ii] on "Building Relationships in Today's Classrooms" and again for EPISODE #64[iii] on "Making Connections with Neuroscience and Social and Emotional Learning" pointed out that Biles used "self-awareness, self-management and responsible decision-making to look after her personal well-being" proving that these skills are not just important, but crucial to develop in our children, for future success.
As I was preparing to release my interview with Dr. Rankin, I thought it would be important to review these 3 Social and Emotional Learning Competencies and reflect on them to see where we are with them in our personal and professional life.  These competencies are the backbone to what we cover on this podcast, with our goals to connect these competencies to the most current neuroscience research, hence the name of our podcast, "Neuroscience Meets Social and Emotional Learning."
Review of Three Important Social and Emotional Learning Competencies:
If we think about how these competencies played out for Simone Biles, I'm sure we could all agree that we use these important competencies on a day-to-day basis. It's not just our students who must think about making responsible decisions, it's all of us, every day, as we juggle life's many obstacles like our work, family and all of the changes that come our way in our personal and professional lives. For today's episode, we will look at the three competencies that Greg Wolcott pointed out she used and see if we can think about them in our daily life.
Are you self-aware?
How about your self-management? Are you in control of your emotions and behaviors?
Do you make responsible decisions?
SELF-AWARENESS: We released this episode #2[iv] in July 2019 and this episode gained immediate interest since to "know thyself" is the most substantial achievement we can have in our lifetime.
"The major value in life is not what you get. It's what you become." (Jim Rohn, American author, speaker and entrepreneur).
So, let's take a deeper look. What is self-awareness, why do we need it, and how can we get more of it?
Self-awareness is "the ability to see ourselves clearly, understand who we are, how others see us and how we fit into the world."[v] When we have self-awareness, we have a power within ourselves because there is a comfort in knowing who exactly we are and where we fit into the larger world around us. Research shows that "people who are more self-aware have stronger relationships, are more creative, competent are better communicators and perform better at work."
Do you know yourself? What drives you, or even what gets under your skin? Go back and listen to this episode for a full list of strategies and suggestions to dive deeper into yourself, but as I'm learning, it's a lifetime project. Keep learning, growing and moving towards your goals with each new idea and suggestion, and please do keep sending me messages through social media. It really does help to hear how you are using these ideas.
SELF-REGULATION/SELF-MANAGEMENT: We covered this competency on episode #14[vi] and in many other episodes as it clearly became a topic of interest, but one of my favorite episodes was episode #53[vii] from April 2020 on self-regulation and your brain based on the work on Dr. Bruce Perry from the Neurosequential Network[viii], who will be appearing on the podcast in October of this year on his new book with Oprah Winfrey, What Happened to You[ix]?
What is Self-Regulation and Why is it So Important? 
Self-regulation is "the ability to manage your emotions and behavior in accordance with the demands of the situation. It includes being able to resist highly emotional reactions to upsetting stimuli, to calm yourself down when you get upset, adjust to a change in expectations and (the ability) to handle frustration"[x] In other words, it's the ability to bounce back after a setback or disappointment, and the ability to stay in congruence with your inner value system. 
The ability to control one's behavior, emotions, and thoughts is an integral skill to be taught to young children as well, so they can form and maintain healthy relationships and connections later in life.[xi]  As an adult, self-regulation is important in day-to-day life as we must learn how to handle and bounce back from life's challenges and disappointments in our personal and professional lives.  This skill is crucial to develop as we all know that life is full of ups and downs and we must be able to navigate through challenging situations before we can reach any level of achievement and success. We all know people who seem to bounce back after adversity. It's not by luck or chance, it's because they have learned how to self-regulate and intentionally get themselves back on course. This is a learned skill and one that we must teach or model to our students/children for them to be able to master it as adults. I'm still working on this one myself!
RESPONSIBLE DECISION-MAKING: We released this episode #12[xii] on August 9th, 2019.
Understanding the neuroscience[xiii] behind decision-making can be an important tool when looking for new results and making improvements with this competency. To make sound decisions, we must have a healthy and sound brain. We discussed the importance of brain development and results and the fact that "your brain is not fully developed until the age of 25 for females and 28 for males"[xiv] on past episodes so it is critical that we take care of our brain to ensure that we are able to make sound decisions later in life.  An understanding of our brain's functions and form are crucial to our future success, since our brain is involved in literally everything that we do. Changing our thinking is the first step towards changing our results and no one can do this for you. The next step is taking action on the decisions.
Most people get stuck here and end up blaming others for their results when they look around and don't like what they see. They blame the job market for the fact they don't have the job they would like to do, or what's going wrong in the world for whatever results they have created. Responsible people never blame others for their results but take 100% responsibility and ownership.
This is an important skill to learn in the classroom as well as the workplace. Do you make responsible decisions?
Now that we have reviewed some of the important SEL competencies that we cover on this podcast, I hope it's given you a chance to review them and think about some new ways of thinking that can help you make improvements in your life.
Let's go straight to my interview with expert in psychology and cognitive neuroscience, Dr. Rankin, who will ask me some questions for a change and see what else we will uncover.
FOLLOW ANDREA SAMADI: 
YouTube Channel: https://www.youtube.com/c/AndreaSamadi  
Website https://www.achieveit360.com/  
Facebook:  https://www.facebook.com/Achieveit360com  
Neuroscience Meets SEL Facebook Group https://www.facebook.com/groups/2975814899101697  
Twitter: https://twitter.com/andreasamadi  
Instagram: https://www.instagram.com/andreasamadi/ 
RESOURCES:
The Marshmallow Experiment with Andrea Samadi Uploaded Nov. 2, 2017 https://www.youtube.com/watch?v=Rq903CXJUpg
REFERENCES:
[ii]Neuroscience Meets Social and Emotional Learning Podcast EPISODE#7 with Greg Wolcott on "Building Relationships in Today's Classrooms" https://andreasamadi.podbean.com/e/greg-wolcott-on-building-relationships-in-todays-classrooms/
[iii] Neuroscience Meets Social and Emotional Learning Podcast EPISODE #64 with Greg Wolcott on "Making Connections with Neuroscience and SEL" https://andreasamadi.podbean.com/e/assistant-superintendent-greg-wolcott-on-making-connections-with-neuroscience-and-sel/
[iv] Neuroscience Meets Social and Emotional Learning Podcast EPISODE #2 "Self-Awareness: Know Thyself" https://andreasamadi.podbean.com/e/self-awareness-know-thyself/
[v] "Increase Your Self-Awareness with One Simple Fix" YouTube uploaded Nov. 2017 Tasha Eurich https://www.youtube.com/watch?v=tGdsOXZpyWE
[vi] Neuroscience Meets Social and Emotional Learning Podcast EPISODE #14 "Self-Regulation: The Foundational Learning Skill for Future Success" https://andreasamadi.podbean.com/e/self-regulation-the-foundational-learning-skill-for-future-success/
[vii]Neuroscience Meets Social and Emotional Learning Podcast EPISODE #53 on "Self-Regulation and Your Brain" https://andreasamadi.podbean.com/e/self-regulation-and-your-brain-how-to-bounce-back-towards-resilience/
[viii] https://www.neurosequential.com/
[ix] What Happened to You by Dr. Bruce Perry and Oprah Winfrey Published April 27, 2021  https://amzn.to/3j1KjqB
[x] How Can We Help Our Kids with Self-Regulation https://childmind.org/article/can-help-kids-self-regulation/amp/
[xi] How to Practice Self-Regulation https://www.verywellmind.com/how-you-can-practice-self-regulation-4163536
[xii] Neuroscience Meets Social and Emotional Learning Podcast EPISODE #12 "Responsible Decision-Making Begins with Brain Health" https://andreasamadi.podbean.com/e/responsible-decision-making-begins-with-brain-health/
[xiii] The Neuroscience of Making a Decision https://www.psychologytoday.com/us/blog/the-athletes-way/201505/the-neuroscience-making-decision?amp
[xiv] Brain Thrive by 25 Online Course https://www.brainmdhealth.com/brainthriveby25